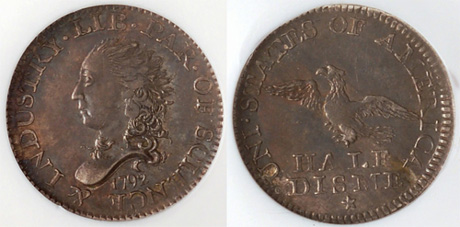 The smallest silver denomination authorized under the Coinage Act of April 2, 1792 was the half dime, or half disme. The first examples of the denomination were struck in 1792 from silver that is said to have been deposited by George Washington. The 1792 Half Disme was part of a pattern series produced that year, although the issue's status as a pattern is disputed.
The obverse is believed to have been designed by Adam Eckfeldt, and features a portrait of Liberty facing left. Her hair flows gently backwards, but not as much as on the later silver coinage. The lettering surrounding the image read "LIB.PAR.OF.SCIENCE & INDUSTRY", and the date is directly beneath the truncation of Liberty's neck. The reverse is believed to have been designed by Robert Birch, and features an eagle partly in flight. The inscription "UNI. STATES OF AMERICA" is around, with "HALF DIME" below, and a star near the bottom. It should be noted that the designers of both the obverse and reverse are only rumored. Different researchers have come up with different possibilities.
The small mintage, believed to have been approximately 1,500, did circulate and was readily accepted by the American public. These pieces carried the exact same specification as the Flowing Hair Half Dimes, which would follow in 1794.
The 1792 Half Dime has enjoyed consistent popularity with collectors due to the issues rarity and fascinating story. When examples are offered for sale, they generally bring strong prices. Most pieces will show some wear from circulation, but a small number of uncirculated pieces are known as well, perhaps saved as souvenirs from the first official coinage struck by the United States Mint.