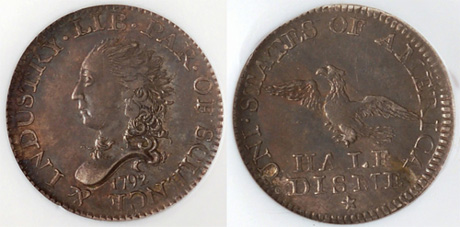 The 1792 Half Disme (Buy on eBay) is a historically important issue which represents the first coin struck under the Coinage Act of 1792 and the first coin struck by the United States government. Although some still consider the issue to be a pattern, most now classify it as a regular issue due to its mintage level and the fact that the coins were released into circulation.
The design for the 1792 Half Disme is believed to have originated from the Birch Cent pattern issues designed by William or Robert Birch. The obverse shows the head of Liberty facing left, with the date below. The motto LIB. PAR. OF SCIENCE & INDUSTRY appears around the border, standing for "Liberty Parent of Science and Industry." The reverse carries a small flying eagle with the inscriptions UNITED STATES OF AMERICA and HALF DISME.
The coins were struck in the cellar of saw maker John Harper, since the Mint building was still under construction. Approximately 1,500 pieces were produced with the majority entering circulation. During his Annual Address to Congress, President George Washington would mention "a small beginning in the coinage of half dismes." Over the years, stories have circulated that the coins were minted from silver personally supplied by George Washington or that the obverse portrait was based on the appearance of Martha Washington.
The 1792 Half Dime has enjoyed consistent popularity with collectors due to the issue's fascinating origin and rarity. Most pieces will show some wear from circulation, but a small number of uncirculated pieces are known, including some exceptional examples.
The finest known piece has been graded PCGS MS-68 and most recently sold for $1,958,000 in 2018 by private treaty sale. This piece traces its ownership back to David Rittenhouse, the first Director of the United States Mint. Another superlative example of the coin has been designated as a specimen strike due to its unusually sharp details and proof-like surfaces. This example has been graded PCGS SP-67 and most recently sold for $1,292,500 in 2014.